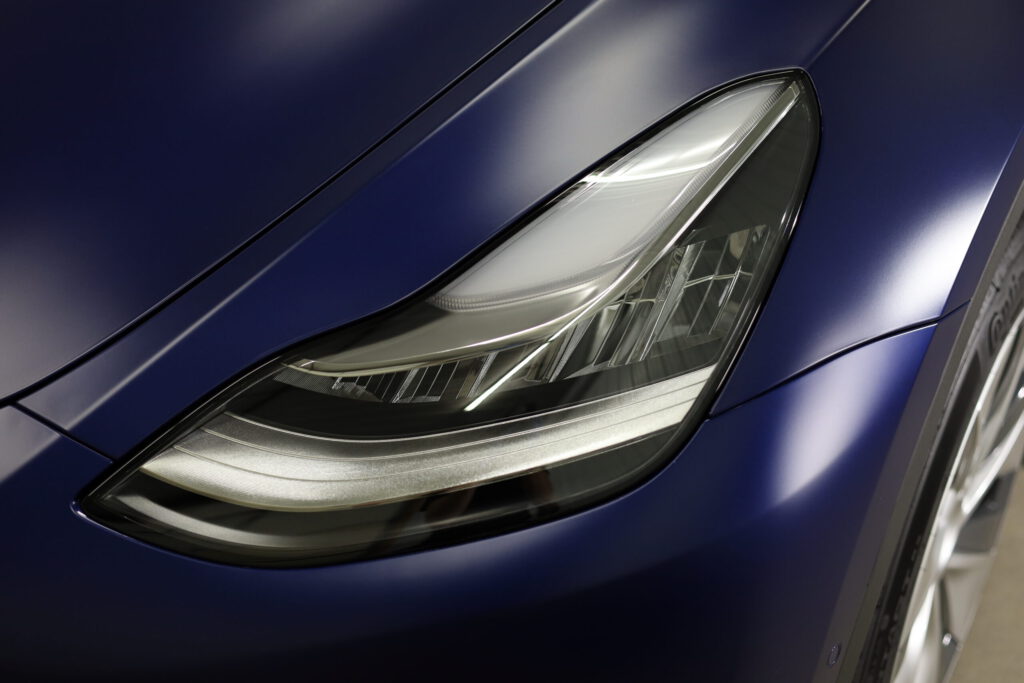 5 Things You Need To Know About Paint Protection Film on Your Tesla Model 3, Y, S and X
In this Blog we will be going over 5 things that you may want to consider when looking for PPF on your Tesla. We will also go over what PPF is, other things to look out for, things to stay away from and what to expect when you get PPF on your Tesla
1. What Is Paint Protection Film and Why Is It Important To Have On Your Tesla?
We should probably first start off by explaining what Paint Protection Film is and why its very important to consider getting in on your Tesla.
What is PPF?
The Film we offer STEK Paint Protection Film is the best solution for protecting your new Tesla. Paint Protection Film (PPF) is a clear polyurethane film that can absorb impact damage and stop rocks from chipping away at it, you'll never have to worry about what happens while driving.
STEK offers a 10 year warranty making it an affordable option in the long run as well. You can drive with confidence knowing your vehicle is protected and not need to worry about damaging it every time you get behind the wheel.
Why is it important for your Tesla?
The car market is rising faster than we have ever seen. You would think the paint should be much better for the price you're paying right? Wrong. The clearcoat we see on vehicles is much thinner than it has ever been. This means that your Teslas paint is more weak and prone to chipping over time just due to the fact the paint is so much thinner. We also see another common problem on Teslas specifically. The low ride height combined with large, flatter front ends makes them much more susceptible to damage by flying road debris. 
The wheels on Teslas, they stick out beyond underneath the body panels of the car. This could possibly send any flying debris hurdling down the side of your paint job at 100 mph. 
2. What Should You Look Out For When Getting PPF?
When looking for somebody to install Paint Protection Film on your vehicle you want to find someone that will do a good job and stands behind their work . If you don't do your research you can end up with some very bad damage on your Tesla that may never be repaired without an entire front end repaint… This also means that no matter where you take it to get repainted, the finish will never match factory. 
It is absolutely crucial you choose somebody that will take good care of your vehicle and not damage it. Here are somethings to look out for and some questions to ask when looking for an installer.
Does the Installer "Bulk" or "Plot"  When looking for an installer you want to ask them how they cut out there PPF. You want to find an installer that uses a Plotter to cut out there Film.. Heres why. When you perform what's called a "Bulk" it involves taking a large square section of film, applying it on the car, than using a knife to cut out all of the excess… This means they will have to put a blade right up to your paint and can possible cut through, causing irreversible damage. At Fick's we only use modified plotted kits that we print on our state of the art plotter.
What Warranty does your Film offer? You want to find a Film that has at least a 10 year warranty against any cracking or yellowing. along with this you want to find an installer that warranties all of there work if there was any peeling ppf that needed to be replaced.  
How often do you apply PPF? Paint Protection Film is a very meticulous craft and requires hours of work and efforts. If a shop is only doing 2-3 a month, that's a red flag and I would stay away from them and find someone more experienced. 
How clean is there shop? There is only one way to find this out and that is by going directly to the shop and seeing. Ask the installer if you can stop by, check the area to see how well kept it is. The quality of your PPF install is highly based on the environment PPF is installed in. If the shop is very dirty, chances are, your film will be too. 
Do you Wrap Edges? ALWAYS make sure you find a shop that wraps edges, we go the extra mile at Fick's and Wrap every edge possible. There are always some limitations but we always push it to the limit to get the cleanest install possible. There are some shops that will not wrap one edge and this will leave your vehicle with not only a terrible look but your edges will still be exposed to rock chips. Heres a picture of a non wrapped edge below.
3. What Paint Protection Film (PPF) Package should I get?
We offer many different options for PPF at Ficks, It all depends on the type of driving you do and the amount of protection you want on your Tesla. The Packages we offer are as follows: Partial Front, Full Front, Highway Package and Full Body PPF. 
The most common package we sell on Teslas is our Highway Package. This is because Teslas are known for kicking up debris on the side of the vehicle creating many small chips that will eventually fade the paint. The Highway Package is a Full Front plus all rockers, bottoms of doors, behind rear bumper and partial A – Pillars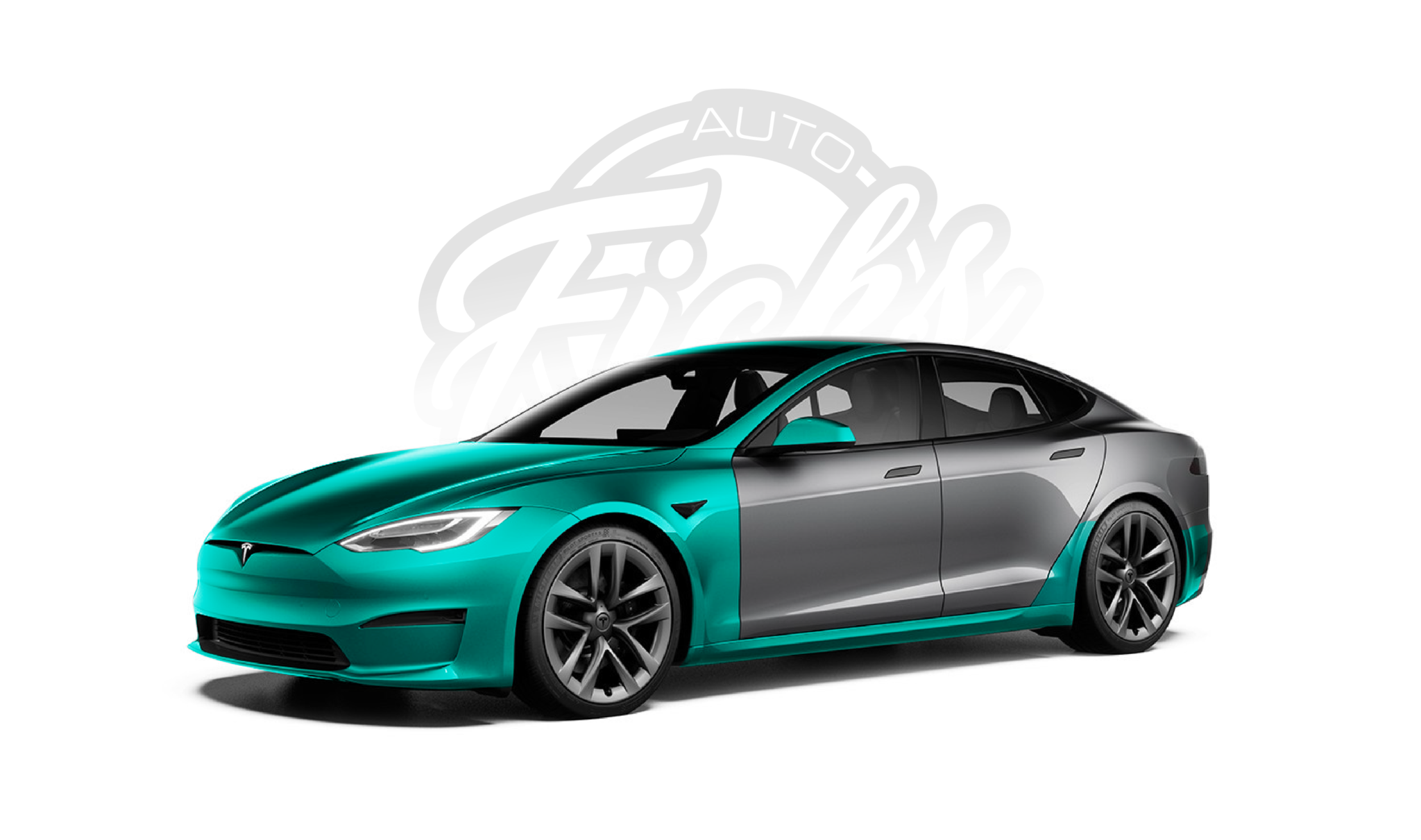 The Second most common package is our Full Body PPF Package, this offers protection on every square inch of the vehicle and also even allows you to change the entire look of the car if you choose the Stealth / Dynomatt PPF Package. 
4. How Much is Paint Protection Film and Is It Worth It?
The price of Paint Protection Film (PPF) can vary drastically depending on your area, the reputation the installer has, the experience the installer has and the quality of film they are using. The most common PPF Package installed is the Full Front Paint Protection Film Package, you can typically see this package ranging from $1,250 at the lowest all the way up to $3,000. These prices are variable and can still go up or down depending on the year, make and model of your vehicle. You can expect to spend $1,750 – $2,500 to get Paint Protection Film installed on your Tesla. 
Is it worth it?
 We always recommend Paint Protection on vehicles as soon as they come off of the lot.
The investment into Paint Protection Film (PPF) is very important because no matter what you do your Tesla will eventually become chipped & scratched, unfortunately this just happens with everyday driving and washing. If the paint gets chipped up enough you will have to take it to a body shop to get it re-painted. This will decrease the car's value by thousands. The painted panels will never match OEM paint. This will create a noticeable difference in the way your Tesla looks and is something that you want to avoid at all cost. 
It will always be cheaper to replace PPF on a panel instead of having it painted by a reputable shop. When you take it to a reputable shop it will cost thousands and will usually have to be blended into another panel which will only further increase the cost.
It comes down to what you want. If you're okay with letting your vehicle's clear coat get beaten by the everyday road conditions than maybe PPF isn't for you. Paint Protection Film is for the people that truly enjoy the look of there vehicle and want it to stay looking brand new for the life of the vehicle. 
5. When should I Get Paint Protection Film (PPF) Put on My Vehicle?
We always recommend getting Paint Protection Film as soon as you get the vehicle. We often see Teslas with double digit milage come into the shop to get protected. It will always be best to bring the vehicle to us brand new so that way no damage can be caused. If there is damage caused to the vehicle within the time you drive it unprotected we will have to fix this, this will not only increase the cost of this service but we will never be able to guarantee those marks won't be more visible. 
If you decide to wait till you get Paint Protection Film put on your vehicle there is a very high change that damage can happen within that time frame, If it does and we have to repaid it the PPF may actually make the blemish more noticeable than it was before.
Fick's Auto Detailing is the only Paint Protection Film installer in Michigan that offers pickup in an enclosed trailer from the Clarkston, MI Tesla Center. If you are interested in this service you can get in contact with us today by submitting a quote request and we will get back with you within 24 hours.
Why Fick's Auto Detailing?
When you come to Fick's Auto Detailing, you are dealing with a shop that is not going to out source work to a low quality vendor. We do all of our PPF installations in house and your vehicle is safe with us the entire time we work on it. We will be installing exactly what you need to protect your Tesla and keep it looking new using our industry leading cutting machine & customer paint protection film patterns. 
When you come to Fick's Auto Detailing, we do all of our work in house. We would never outsource any work to a low quality vendor like other shops may do to make a quick buck. We keep the vehicle safe within our facility and stays there the entire time we work on it. We will install industry leading Paint Protection Film and allow you to protect your Tesla and keep it looking new using our industry leading cutting machine & custom PPF Patterns. 
Your Tesla deserves the best protection and we know that Paint Protection FIlm is not something you take lightly. We take all of our PPF installs very seriously, we hold the highest quality of craftsmanship and if we don't like it we will always make sure we try till it's to the highest quality possible. We will do everything in our power to make sure the job is done right the first time so you can avoid making several trips, because we get it. Your time is valuable. When looking for somebody to install you should look for a shop that chooses extreme high quality over speed when applying Paint Protection Film on your Tesla. 
Fick's Auto Detailing will be happy to meet you at the Tesla Dealership in Troy MI, Clarkston MI and even Grand Rapids MI.
Michigans top automotive paint protection film, ceramic coating & window tinting company in Midland, Freeland, Bay City, Saginaw, Troy, Detroit, Vassar, Birch Run, Buena Vista, Essexville, Flint, Frankenmuth, Genesse County, Linwood, Mt. Pleasant, Rochester Hills, East Grand Rapids, Beverly Hills, Northville, Berkley, Birmingham, Novi, Grosse Pointe Farms, Grosse Point Woods, Milan, Grosse Pointe, Ann Arbor, Royal Oak, Plymoth, Berkley