Paint Protection Film in Auburn, Bay City, Midland & Saginaw MI
Protecting your new vehicle with our PPF & Ceramic Coating service is very crucial if you want to preserve the new look of your vehicle. 
Paint is getting thinner and thinner on brand new vehicles every year. This is a trend we have been seeing in the shop for months now and it doesn't look like its going to end anytime soon… We just worked on a brand new 2021 GMC AT4, We were able to read how thick the paint was using a Paint Depth Gauge and we saw paint as low as 2.4mils… What does this mean?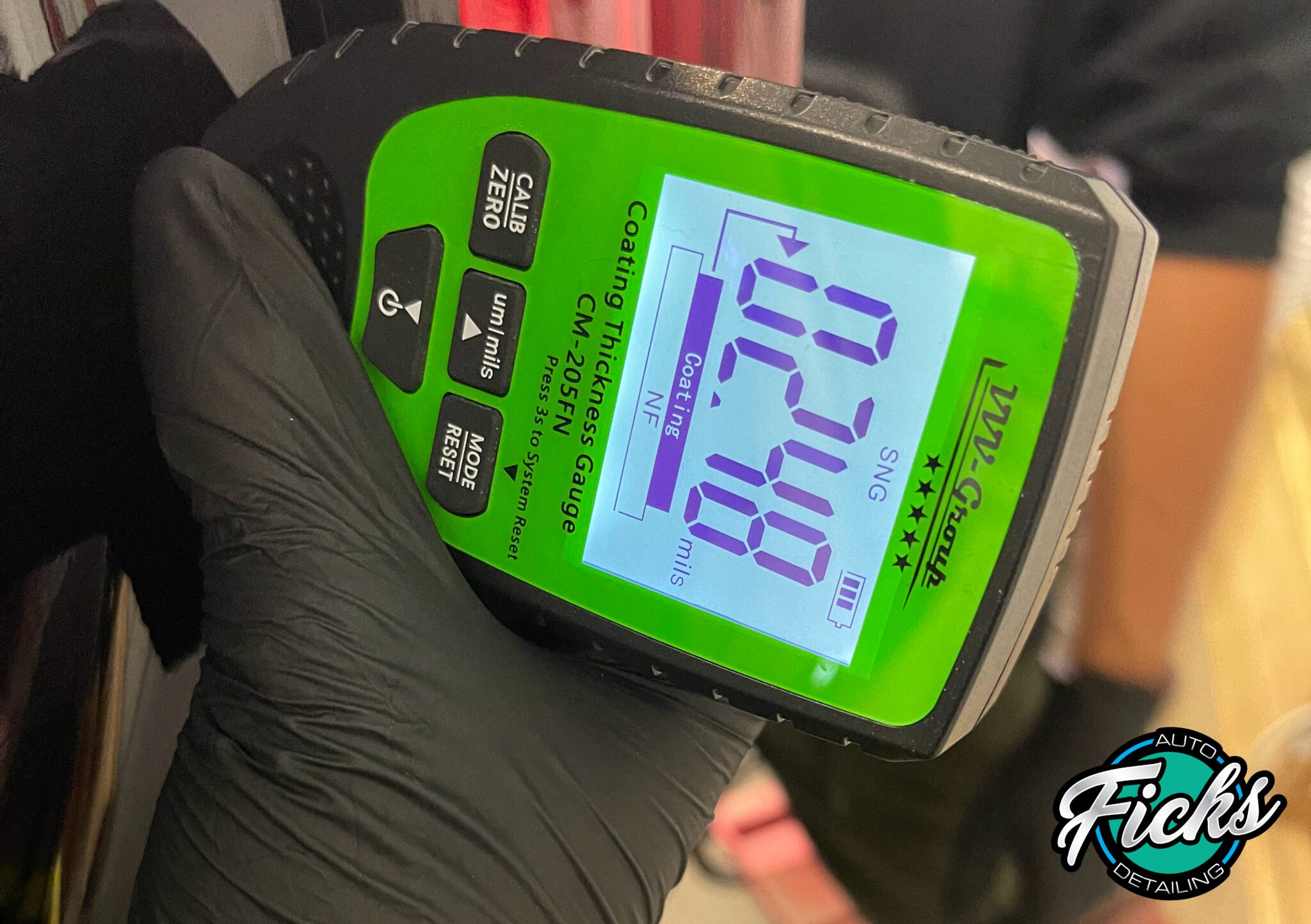 Typically when we get vehicles in we are looking for an average of 5mils. This means that your paint is actually thinner than a piece of newspaper… Yes, newspaper.  
Okay Logan, I get it my paint is probably pretty thin.. What does this mean!? 
This means that the high impact areas of your vehicle are MUCH more susceptible to damage from rock chips, scratches, staining, etchings and much more. When the paint doesn't have that thick layer to protect it from damage it can be damaged much easier. 
While some of this damage could be removed by Paint Correction there's a catch…
Paint Correction is the process of removing swirls and scratches by removing a thin layer off of the clear coat & "leveling out" the clear coat to give you a beautiful & perfect surface. 
BUT on new vehicles this is something that you can only do a maximum of 2 times due to how thin the paint is… if you decide to do more you risk Burning Through the clear coat. 
Burning through clear coat is a paint you want to avoid. This means that the base coat (Color) is completely exposed to the elements and it will eventually dull the entire panel and cause clear coat failure that will require a full repaint… Yeah not good. 
What is Paint Protection Film? 
Paint Protection Film (also known as PPF or Clear Bra) is a durable urethane film that stretches over the vehicles painted surface. This Film is usually applied after a light Paint Correction to remove any small scratches. 
It is applied wet with a soapy solution and then is squeegeed onto the surface, when installed by a professional like Fick's Auto Detailing it can create an almost invisible barrier against harsh road conditions. 
High quality PPF like ours is 8mils thick and will prevent against rock chips and scratches. The film we offer also carries a 10 year warranty against cracking, peeling, fading, and yellowing. In addition to the long warranty, the PPF also has self-healing properties.
Paint Protection Film is going to protect your new vehicle from rock chips, scratches and other impact-related damage that can occur with everyday driving. PPF is the best way to protect your new vehicle and keep it looking new for years to come. 
PPF is a great investment for your new vehicle if you can answer any of these questions:
Will you be doing lots of commuting with the car?
Do you live in an area where the use of de-icing salt is very common?
Do you care about rock chips on your vehicle?
Does the look of your vehicle matter to you?
Do you want the most resale value for your new vehicle possible?
We install 
STEK
Paint Protection Film, 
They are leading the industry in the clarity and durability of their film.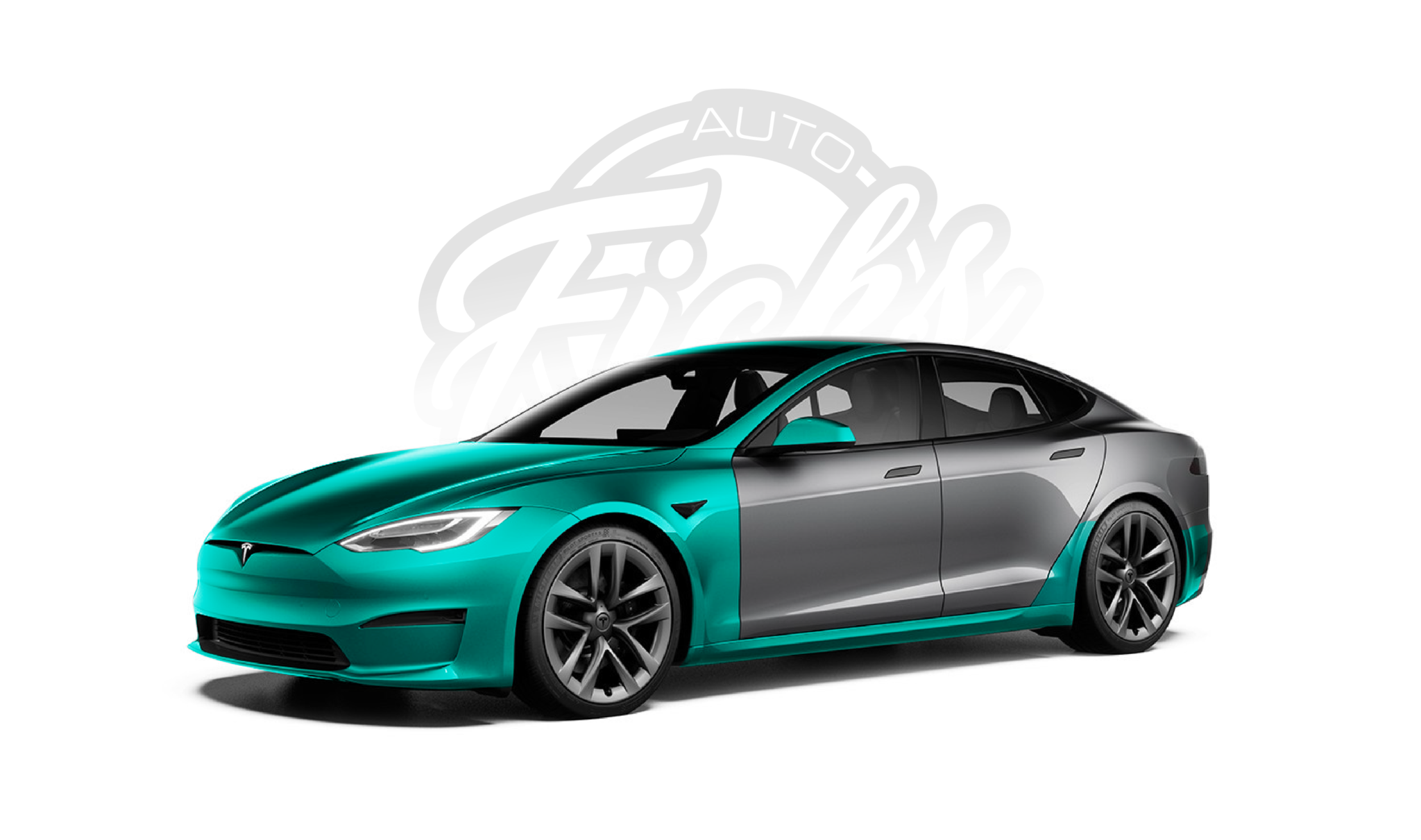 Final thoughts on Paint Protection Film 
When looking to protect your brand new vehicle from costly repairs from Rock Chips, Scratches and other impact-related damage that can occur with everyday driving Paint Protection Film is the only way. When paired with our Ceramic Coatings, your can drive your vehicle and not have to worry about damaging your beloved vehicle.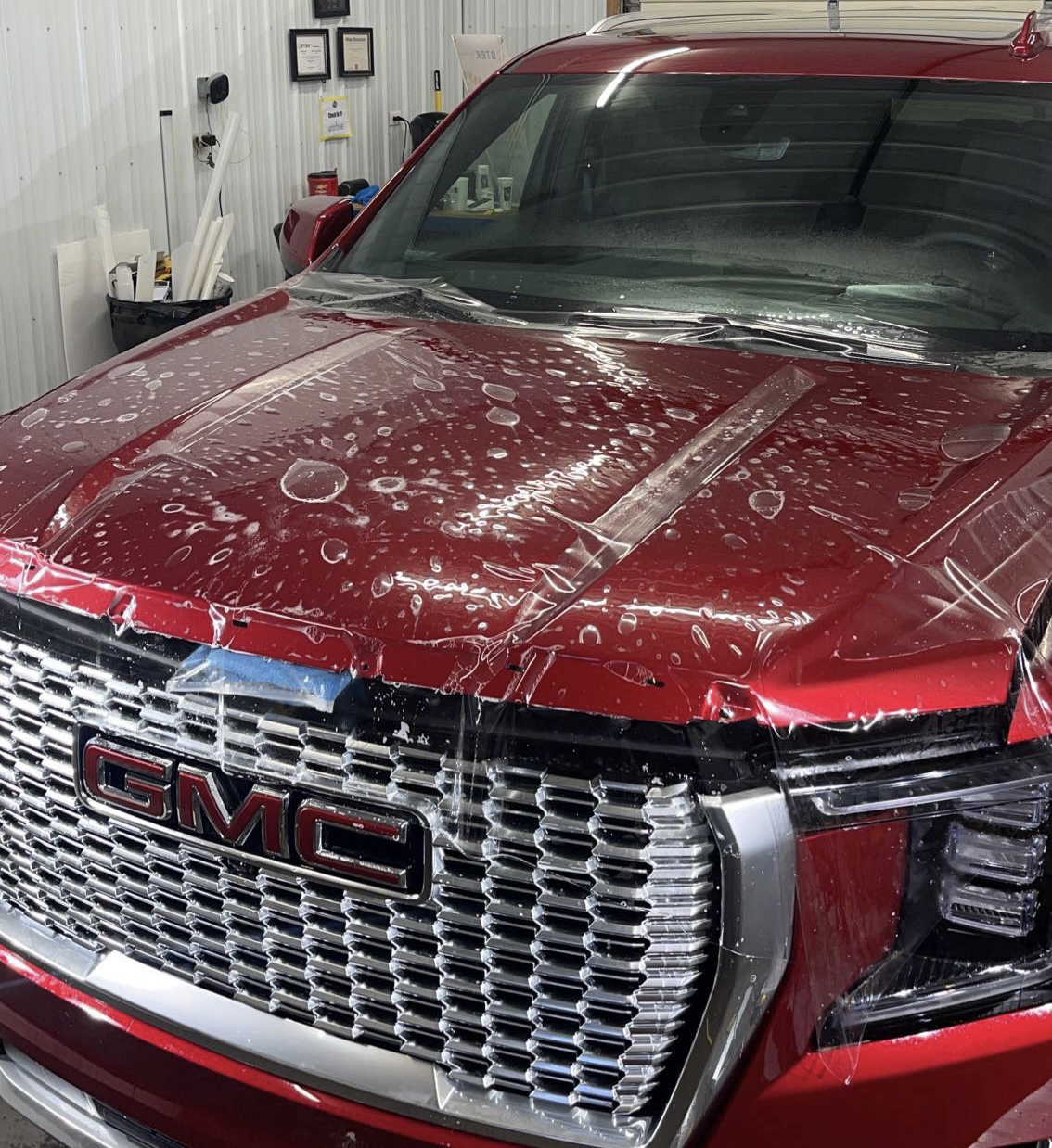 Jennifer Hokanson
⭐⭐⭐⭐⭐
Logan and his team at Ficks installed a full front paint protection film and also put his ceramic coating on. My new yukon looks awesome and I'm so happy it's protected from rock chips!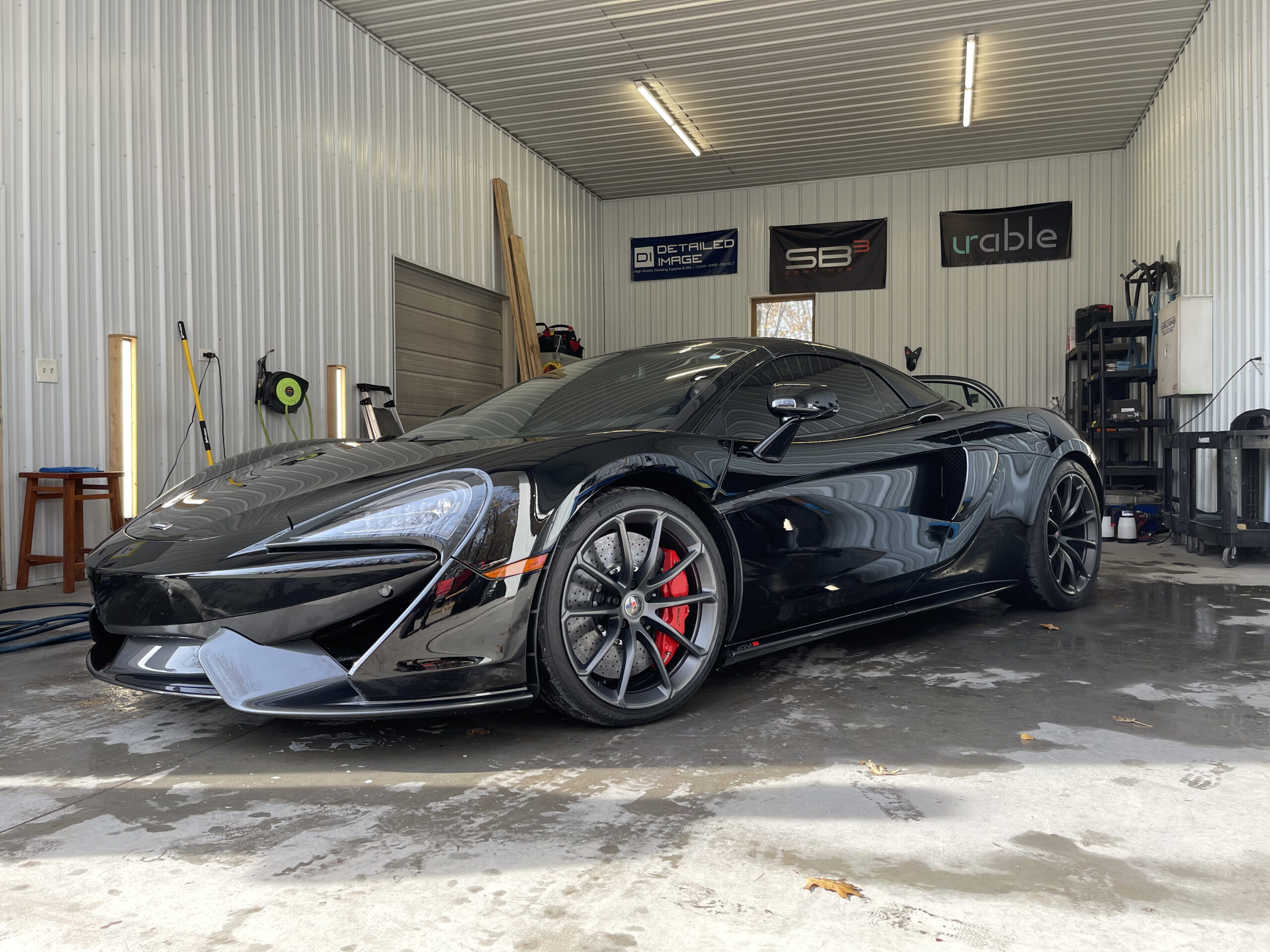 Phil J
⭐⭐⭐⭐⭐
This is the 2nd time I have used Fick's Auto Detailing and I have been impressed by the work they do!! Both of the cars have never looked so good. I recommend Fick's Auto Detailing to everyone and I am telling you that you won't be disappointed!!!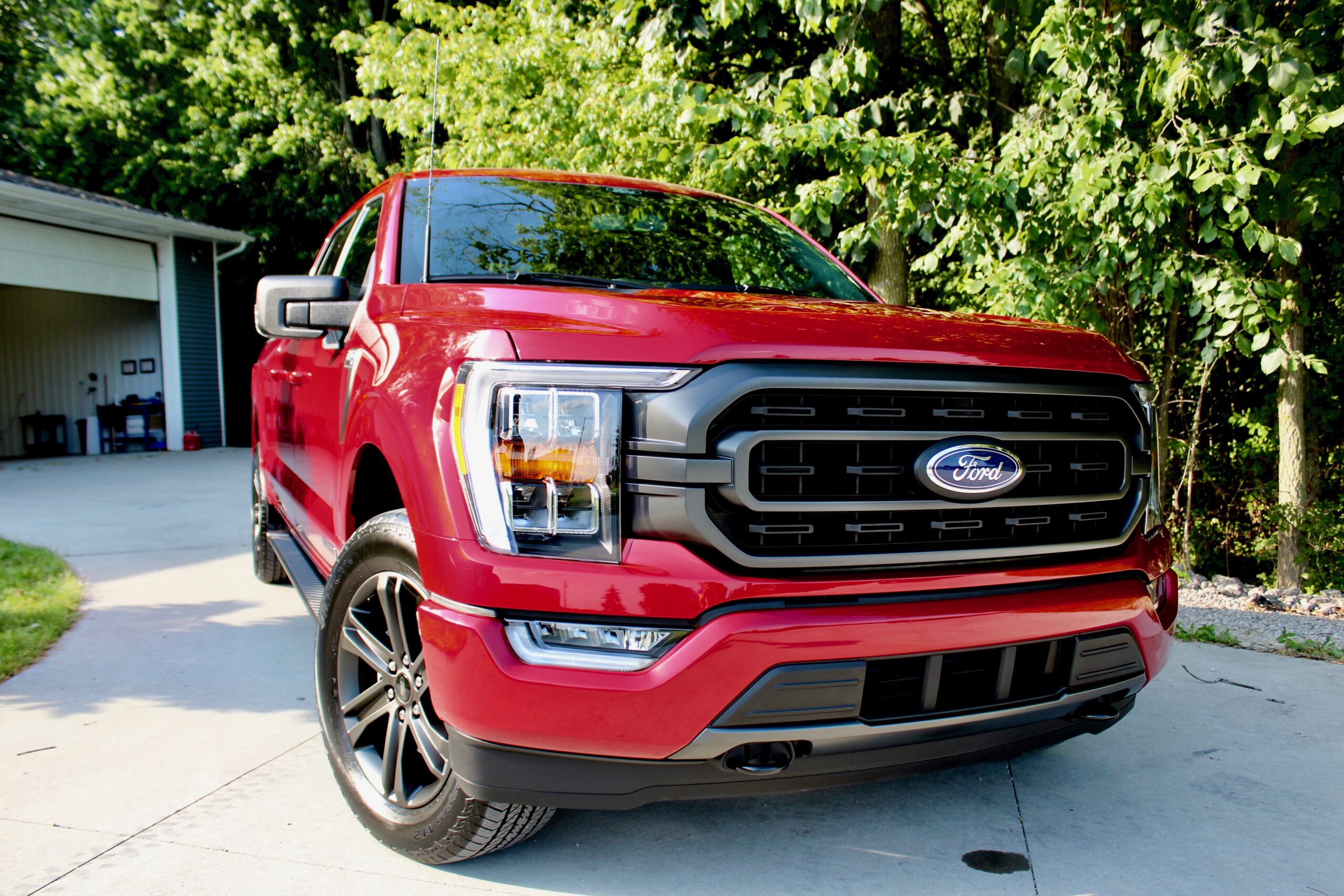 Jayce
⭐⭐⭐⭐⭐
Got the level 3 package from these guys and they did an amazing job. I have always wanted my vehicle ceramic coated and I could not be happier with the results. These guys are true professionals and have a very keen eye for detail. Without a doubt would recommend these guys 10/10 to do any kind of detail work.
The Best Ceramic Coatings, Stek Paint Protection Films, Paint Protection Film (PPF), Clear Bra, Paint Correction & Auto Detailing in Midland, Bay City, Freeland, Saginaw, Birch Run, Flint, Frankenmuth, Buena Vista, Vassar, Frankenmuth, Essexville, Mt. Pleasant, Linwood, Genesee County and Clio