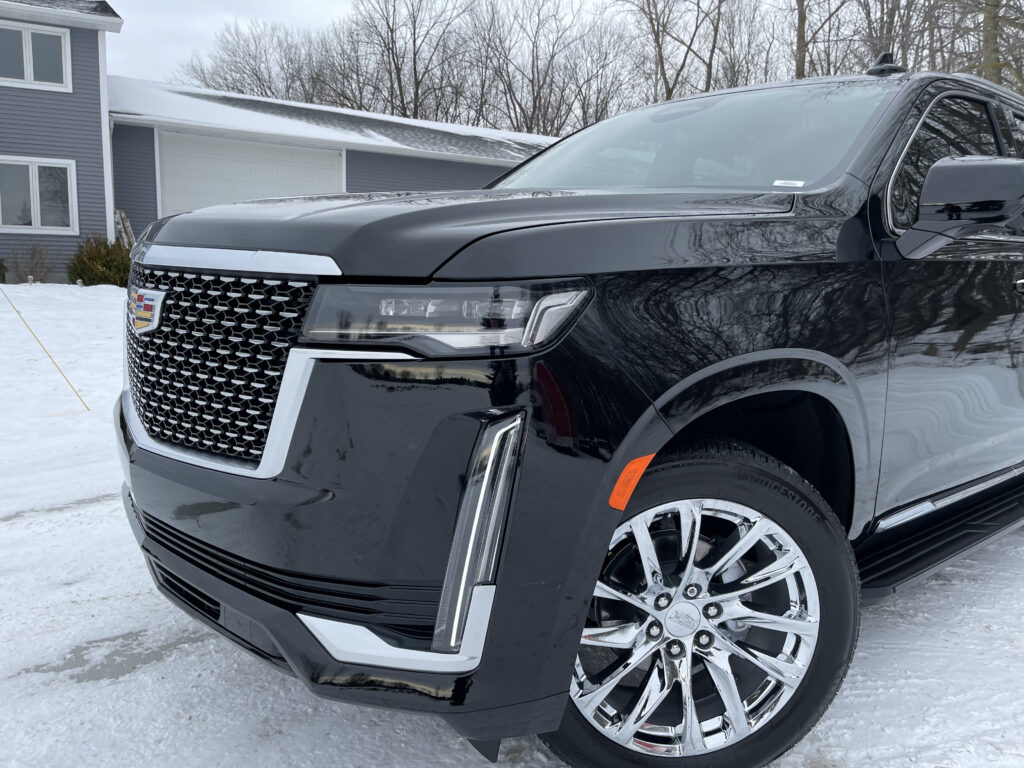 How will Paint Protection Film Cadillac looking brand new?
We have finally started to see supply chain issues start to free up. The most common vehicle we are seeing right now is the Ultra Luxurious 2022 Cadillac Escalade. 
You need to consider protecting your new Cadillac with our Paint Protection Film services as soon as you get it. Heres why… 
Paint Protection Film is going to protect your vehicle from all of the harsh elements the road has to throw at it. It will protect from Rock Chips, Scratches and Mild Abrasions
Theres been an issue with new vehicles we have been seeing quite often. The biggest one is how thin the paint is. We recently did a 2022 Caddilac Escalade and we measured as low as 3.2Mils of paint…
This means your paint is more more susceptible to damage from harsh road conditions. Ex: Rockchips, Scratches & Flying debris. 
What is Paint Protection Film?
Paint Protection Film (also known as PPF or Clear Bra) is a durable urethane film that stretches over the vehicles painted surface. This Film is usually applied after a light Paint Correction to remove any small scratches. 
Think of it like this, Its an ultra thick sedan wrap that we wrap over all the high impact areas of your Cadillac. 
It is applied wet with a soapy solution and then is squeegeed onto the surface, when installed by a professional like Fick's Auto Detailing it can create an almost invisible barrier against harsh road conditions. 
High quality PPF like ours is 8mils thick and will prevent against rock chips and scratches. The film we offer also carries a 10 year warranty against cracking, peeling, fading, and yellowing. In addition to the long warranty, the PPF also has self-healing properties.
Paint Protection Film is going to protect your new vehicle from rock chips, scratches and other impact-related damage that can occur with everyday driving. PPF is the best way to protect your new vehicle and keep it looking new for years to come. 
PPF is a great investment for your new vehicle if you can answer any of these questions:
Will you be doing lots of commuting with the car?
Do you live in an area where the use of de-icing salt is very common?
Do you care about rock chips on your vehicle?
Does the look of your vehicle matter to you?
Do you want the most resale value for your new vehicle possible?
We install 
STEK
Paint Protection Film, 
They are leading the industry in the clarity and durability of their film.