Professional
Ceramic Coatings Saginaw MI
At Fick's Auto Detailing, we use only the best ceramic coatings to give your vehicle incredible protection from the elements. 
Ceramic Coating in Saginaw MI
The ceramic coating on your car can keep it looking new and protect the paint job. This treatment is created by applying a protective coat of nano-ceramic particles to the surface of the vehicle. It may seem like it costs a lot, but many benefits come with it. You'll also see that this type of Coating lasts longer than other types because it doesn't melt or peel away over time. With all these benefits, you should take some time to research, compare and find out which one will work for you! Contact Us to learn more about our paint protection services.
Level 2 SB3
Alpha Coating
Level 3 SB3
Trinity Coating
What are the benefits of a ceramic coating Saginaw MI?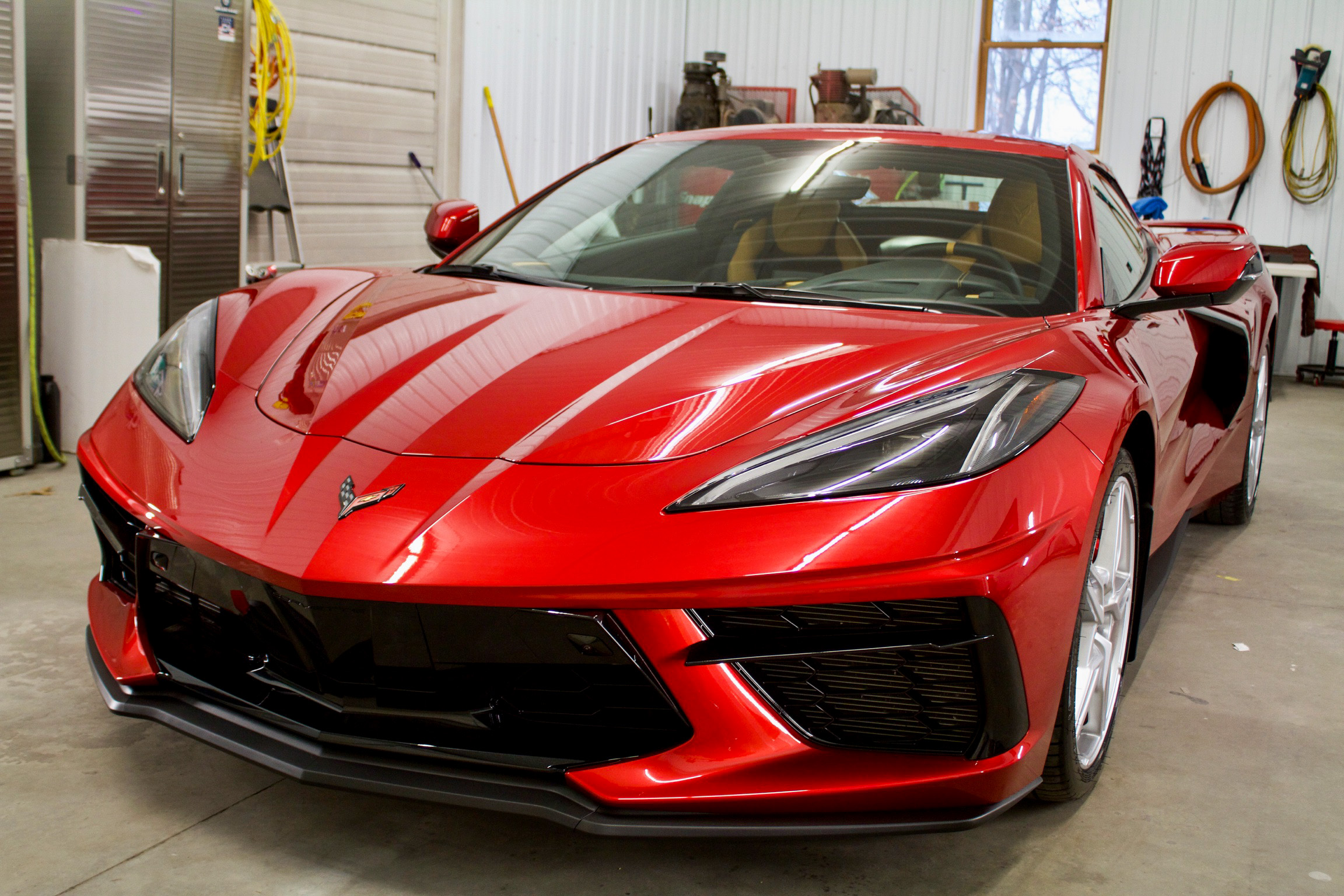 Ceramic coating Saginaw MI services
A Ceramic Coating is a product that is applied to your vehicle to protect it from dirt, scratches, and more. Ceramic Coatings can be applied to any surface of your vehicle, including wheels, rims, bumpers, paint, chrome trim, and more. Ceramic Coating Saginaw MI also has an unsurpassed glossy finish with mirror-like reflection! We offer different levels of protection in order to service any vehicle and to stand out above all the car detailing Saginaw MI shops.
SB3 Solo Coating
When you purchase Level 1, you are receiving a great entry-level protection package. This includes enhancement polish, cleaning of the engine bay, and SB3 Solo Ceramic Coating. This service delivers amazing gloss and incredible water beading and is a great topper for any of our other coatings.
SB3 Alpha Coating
This package includes various additional services, including Ceramic Coating, complete cleaning, engine bay cleaning, and SB3 Alpha ceramic coating application. This level will provide 5 years of protection and create a gloss/slick look to your vehicle. 
SB3 Trinity Coating
This is the most expensive level of protection that will provide 7 years of protection and will outweigh any other car detailing Saginaw MI service. The Level 3 Ceramic coating offers everything from Ceramic Coating, Engine Bay Cleaning, Wheels Polishing/Trim Polish, Interior Detail-Full Detail, and SB3 Trinity Ceramic Coating! 
Ceramic Coating is a popular service that we provide at Fick's detailing in Michigan. We offer many benefits for your vehicle to better suit your needs. If you're interested in learning more about the different levels of services that we provide for Ceramic Coating, please don't hesitate to give us a call! We serve Saginaw and the surrounding areas.
Our goal is to give you all of the options to make an informed decision about your service selection.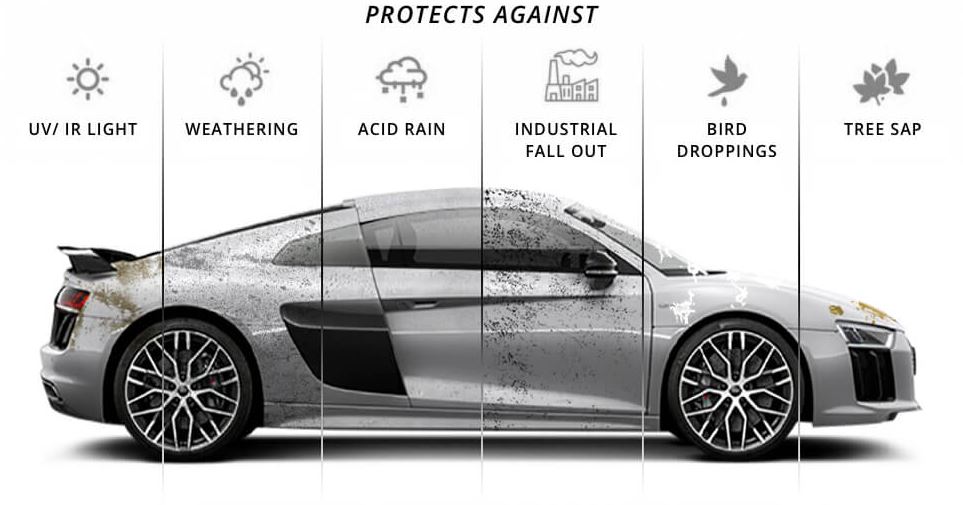 What Is Ceramic Coating?
True ceramic coating is a long-term nanoscopic exterior automotive paint treatment and protectant that is applied in a liquid form and cures to form a hard layer on top of the paint. Essentially, it's the candy shell that protects the paint's delicious chocolate center. 
What are the benefits of ceramic coating?
Ceramic coating has several benefits but we want to focus on the most important ones such as UV protection, chemical staining protection, unmatched gloss,minor scratch resistance and the ease of clean that ceramic coating provides.
Can I Ceramic Coat My Vehicle Without Paint Correction?
Many clients ask can they ceramic coat their vehicle without paint correction, the simple answer is NO. The preparation work that goes into vehicles is what ensures that the ceramic coating has a proper bond from the decontamination wash and clay bar to the paint correction all of these steps are mandatory especially at Ficks Auto Detailing we operate under the highest standards.
What our customers are saying?
Adam Jankowiak
2022-02-03
Fick's Auto Detailing provides superior work and customer service that are second to none. They take time to ensure no small details are overlooked and it certainly shows in the final product. After getting my truck ceramic coated, I was blown away with the results and wished I had done it sooner. You will not be disappointed! Logan and his team are honest, personable, and extremely dedicated to their craft. Highly, highly, highly recommend!!
Had the ceramic coating put on our 1992 Bronco. The car looks marvelous ! A lot of attention was paid to detail . Everyone there was friendly and professional !!
toria montgomery
2022-01-12
When I went to Fick's Auto Detailing it was an amazing experience. Logan was very honest about the services and gave me realistic expectations on what results I would see from the services provided. I ended up going with their level 3 ceramic coating package, and my vehicle has never looked as good as it does after Fick's got done with it! I would recommend Fick's Auto Detailing to anybody if they were looking for the best ceramic coating specialist around. Thanks again guys!
gavin hokanson
2022-01-12
Ficks installed paint protection film on my vehicle. They did such an amazing job it's almost like it's not even on there but still provides amazing protection. I wouldn't trust anybody else with my car!
Great service and great results. Got my brothers car detailed for Christmas and Logan and his team did a phenomenal job!
Jennifer Hokanson
2021-12-20
Logan and his team at Ficks installed a full front paint protection film and also put his ceramic coating on. My new yukon looks awesome and I'm so happy it's protected from rock chips!
Awesome work!! Very professional. They did a great job on my truck. I'll be sending by Harleys his way this winter.
I am very pleased with the detailing work that Logan and team did on my families vehicle. We will for sure use Ficks Auto Detailing again and would highly recommend that you do also.
The benefits of having a ceramic coated vehicle
Low maintenance and last for years.
Ceramic coating Saginaw MI provides superior protection against corrosion, acid rain, bug splatter, and more.
This coat strengthens your car's exterior with Native SBC (Self-Bonding Ceramic) technology, like a bulletproof vest for your vehicle.
These are far more effective than waxes or paint sealants. Ceramic goes all the way through your clear coat and binds to it, whereas waxes sit on top of the finish and they slide off after a few washes.
This also provides hydrophobic properties for your vehicle's exterior. This means water beads and rolls right off the finish. Ceramic Coating also helps you maintain your exterior by keeping it clean and dirt-free for more extended periods.
Car detailing Saginaw Mi promotes high-quality services, quality customer service, and competitive rates.
Turn heads with a flawless finish every time you take a drive. Our experts can make a massive difference in the look of your vehicle with absolute perfection- and it doesn't have to cost an arm and a leg!
*For more benefits on protecting your vehicle, head over to our
paint protection Saginaw MI
service page. Utilizing both of these services together will certainly give your ride ultimate protection!*A
About Saginaw
City of Saginaw, Michigan
Area:
Local Time:
Mayor:
Weather:
Population:
Google Map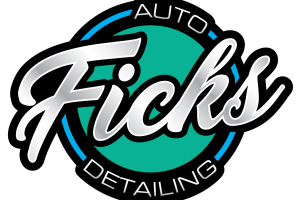 Hours:
Mon – Fri 8:00AM-6:00PM
Sat 9:00AM-3:00PM
Sun Closed